PR1553B™
2-Hole Strip ProtoBoard for 1553B Enclosure
Features:
Single-sided high-quality FR4 glass-epoxy circuit board.
Convenient 2-hole ProtoBoard pattern provides an easy way to connect parts.
1oz/ft2 copper with an anti-tarnish coating for easy soldering. Lead free and RoHS compatible.
0.042" holes are drilled on 0.1" (2.54mm) centers. 4 mounting holes. Screws provided.
PCB Size 4.30 x 2.60in (109.2 x 66mm)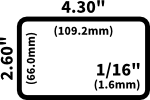 Description:
The PR1553B is a prototyping circuit board (PCB) designed to fit the Hammond 1553B hand-held plastic enclosure. It has the convenient 2-hole ProtoBoard pattern, which provides an easy way to connect parts while maximizing usable board area. It can be used as a stand-alone prototyping board, or installed in a Hammond 1553B enclosure.