SP2-100x100-G™
SMTpads-Size2, 100x100mil Pads, Unplated Holes, 1/16" Thick
Features:
Square SMT pads on 0.100" centers for surface mount components.
Double-sided high-quality FR4 glass-epoxy circuit board with unplated holes.
1oz/ft2 copper with an anti-tarnish coating for easy soldering. Lead free and RoHS compatible.
0.031" (0.79mm) holes (unplated) for connections to ground plane. Just insert a wire and solder.
Size 2 = 100 x 80mm (3.94 x 3.15in), 1/16" thick (1.6mm). Four 0.125" mounting holes.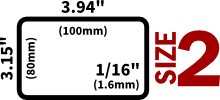 Description:
SMTpads is a prototyping circuit board with a grid of pads for 0402, 0603, 0805, 1206, SOT23, and other SMT parts. A grid of 92 mil square pads on 100 mil centers allows SMT components of various sizes and pitches to be mounted. Larger components can span pads. DIP (100 mil pitch) integrated circuits or sockets can be soldered directly to the pads. A solid ground plane on the bottom side provides an easy way to make ground connections. There are unplated holes spaced every 400 mils. To make a connection to the ground plane, just insert a wire and solder both sides.
Construction Tip: Solder down one strand of 22 AWG stranded wire to make tracks where you need them. Use solid 22 AWG wire for higher current power and ground tracks.